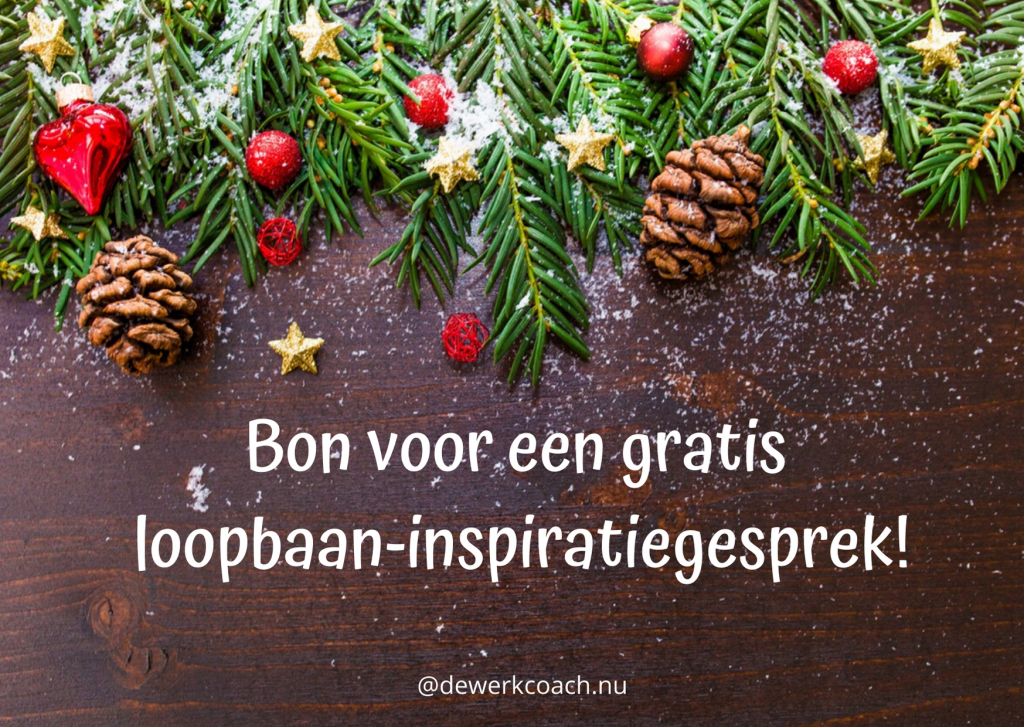 Geef je vriendin, zus, collega, neef, buurvrouw een origineel kerstcadeau dit jaar!
Wat is het precies?
Een loopbaan-inspiratiegesprek is een telefonisch- of skype-gesprek van 30 minuten waarin je het volgende krijgt:
tips om gericht actie te ondernemen
helderheid over wat jou in de weg staat in je werk/zoektocht
inspiratie om met je loopbaan aan de slag te gaan!
Hoe werkt dit kerstcadeau?
Voor de gever:
Bedenk voor wie een gratis loopbaan-inspiratiegesprek een leuk cadeau is.
Print de bon uit of stuur deze link door: www.dewerkcoach.nu/kerstcadeau
Voor de ontvanger:
Stuur vòòr 6 januari 2020 een mailtje naar info@dewerkcoach onder vermelding van 'Kerstcadeau' en beschrijf in het kort wat je graag wil bespreken.
Vervolgens krijg je een mailtje met een link waarmee je zelf het gesprek kunt inplannen.
Op de afgesproken dag en tijdstip neem ik contact met je op.
Vol is vol, dus wacht niet te lang met mailen als je zeker wilt zijn van een plek.
De gesprekken zijn in de week van 6 en 13 januari.
Veel plezier met geven & ontvangen van het kerstcadeau.
Fijne kerstdagen!
Groet, Dorine